Despite our best intentions, misaligned teeth can become a source of embarrassment and lower your self-confidence.
Luckily, Invisalign provides a virtually invisible way to correct your teeth and boost your self-esteem.
Learn how Algonquin Orthodontics uses Invisalign to improve the smiles of patients near the Lake in the Hills, IL, area.
Achieve the Smile You've Always Wanted
Request a Consultation Today
Algonquin Orthodontics is the premier dentistry for all of your Invisalign needs. Dr. Amer Shammaa can provide beautiful smiles with the latest Invisalign technology, and it all begins with a thorough consultation to discuss your needs and goals. We proudly offer Invisalign for teens and adults, and our office in Lake in the Hills, IL, is open for weekend appointments to accommodate your busy schedule.
Contact us with your Invisalign questions or go the full mile for your smile and request a consultation by calling us at:
The Results Speak for Themselves
Invisalign has already transformed 11 million smiles, and we can do the same for you. The photo below highlights the teeth-straightening power of Invisalign for our Lake in the Hills, IL, patients.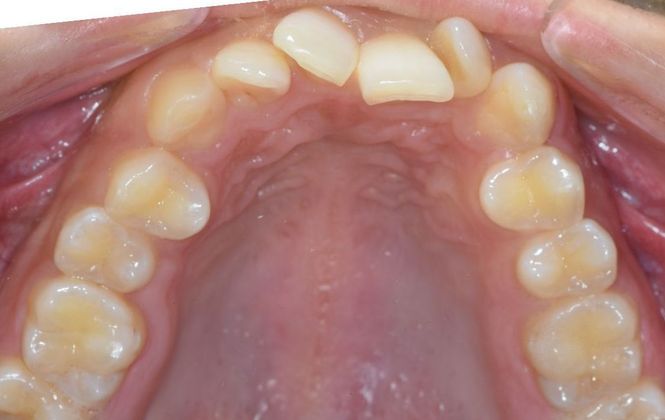 "10/10 Would Recommend"
Algonquin Orthodontics in Lake in the Hills, IL
Dr. Shammaa helped me become more comfortable with my smile. I can now show my teeth without being self conscious about them. 10/10 would recommend.
View On Google
All three of my kids used them. Always on time, super clean, friendly staff. We love Annie. Just got braces off my youngest and all 3 kids have perfect teeth!
View On Google
Invisalign Express is a specific type of Invisalign treatment that can correct minor tooth misalignment in a short amount of time. Express offers similar benefits to other Invisalign treatments, but it's also:
Faster
Invisalign Express is a specific dental plan that can provide a straighter smile in only 3-6 months.
Cheaper
The Express treatment tends to cost less since it requires fewer aligners than other Invisalign plans.
Effective
Invisalign Express can treat orthodontic relapse (teeth shifting out of position after treatments) and minor misalignments.
Since Invisalign Express can only treat minor orthodontic issues, some patients may not be eligible candidates for the treatment. Talk with Dr. Shammaa during a consultation to find out whether Invisalign Express fits your needs.
Many of our patients want to know if traditional braces (brackets and wires attached to the teeth) or Invisalign is better, but there isn't a straightforward answer. Invisalign and braces both offer a host of benefits but can address different dental needs according to each patient.
Here are some of the major factors to take into consideration when deciding between Invisalign or braces:
Invisalign
Some patients claim Invisalign feels more comfortable than the brackets and wires of braces, but they may be tempted to take the aligners off if a new tray causes mild discomfort.
Patients can remove their aligners to enjoy the same foods or play contact sports without affecting the trays. As a result, patients can also lose or forget their aligners.
Invisalign treatments last an average of 6 months to 2 years, and Invisalign Express can work in as little as 3 months. However, Invisalign may not be able to treat more intensive cases of misalignment.
Braces
Any mild discomfort experienced after having your braces tightened quickly goes away, and most patients barely notice their braces after an initial adjustment period.
Braces cannot be removed, and patients must avoid very hard or sticky foods to keep their braces in good shape. At the same time, patients cannot lose or forget their braces at home.
Traditional braces treatment lasts an average of 1-3 years, but braces can treat more intensive cases of misalignment that Invisalign cannot. These intensive cases naturally require more time to move the teeth into place.
Dr. Shammaa can go into more detail about the differences between braces and Invisalign in a consultation at our Lake in the Hills office.
"Experienced and Kind"
Dental Service Within the Lake in the Hills, IL, area.
I had my Invisalign done by Dr. Shammaa and I love my teeth! He is very experienced and kind. The office is neat and well equipped. Prices are very reasonable when compared with other orthodontic offices.
View On Google
Dr. Shammaa is an amazing orthodontist. I took my daughter to him for her braces and he was so nice and friendly! He was very knowledgeable and gave me all the information I needed. Definitely recommend him!
View On Google